Julee, 46 years old from the Gold Coast, Australia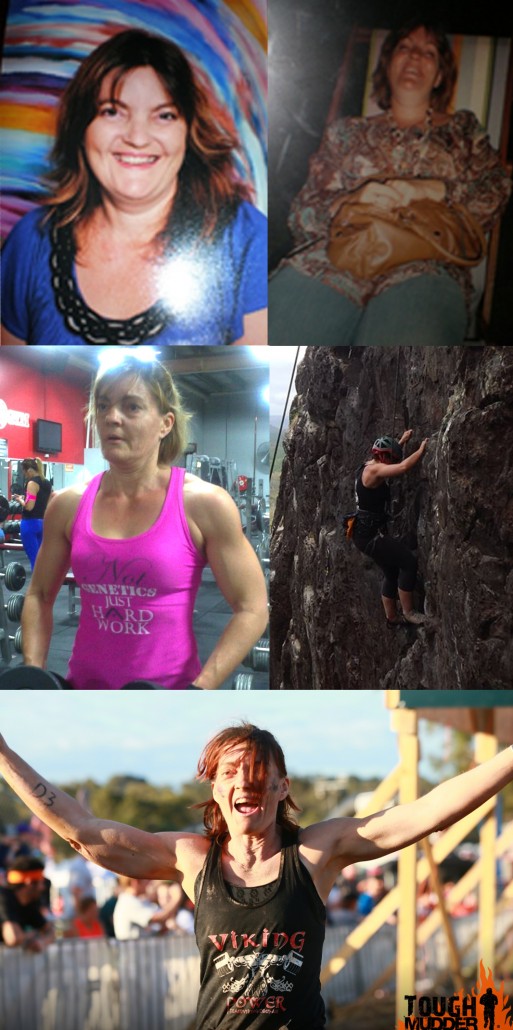 "

I have noticed significant change to my entire body shape and fitness.I have changed my diet and can't wait to train each day. With Kristian's knowledge, encouragement and confidence in my abilities, I continue to surprise myself each week.

"
My name is Julee, I am 46 and live on the Gold Coast, Queensland.  I am an Early Childhood Educator and mother of four.  Not being happy with the way I looked for many years and steadily gaining weight I finally followed through on my thoughts of the past year and joined a gym.  I decided to go with a personal trainer and have now been with Kristian for the 3 years.
I have noticed significant change to my entire body shape and fitness which definitely gives me the motivation to continue on.  I have changed my diet and can't wait to train each day. With Kristian's knowledge, encouragement and confidence in my abilities, I am now lifting heavier weights than I have ever thought possible and continue to surprise myself each week.
Early on in my training, Kristian asked what my goals where and I said "to lose weight and tone up ,I don't want to build muscle", but now, as my body is changing and I'm building lean muscle I can't wait to build more.
I have become a much more confident person and less self conscious. Being very busy with four children and working, the hardest thing for me was time management and committing to my goals, also learning to push myself harder at training and to never give up! But all the hard work has been worth it.
Whether you are looking to be a bodybuilder or 'like me' just to improve your general appearance, health and fitness levels "Kristian is amazing!!!"I have done and will continue to recommend Kristian to anyone.
Gypsea, 21 years old from the Gold Coast, Australia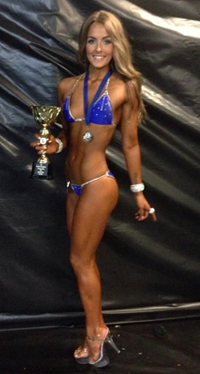 "

Kris went beyond all expectations that I had, and I know he will do so for every one of his clients. He is professional, knowledgeable, inspiring and also comes with a great sense of humor.

"
In 2011 I was diagnosed with hypothyroidism. After being diagnosed I decided I needed to make a lifestyle change; to eat more nourishing/unprocessed foods and start regular exercise. I have now been training for about 3 years, trialing different training methods from boxing, outdoor boot camps, group weight training and also training on my own. In December 2013, I decided I wanted to compete in my first fitness competition, I wanted to take my fitness to a new level and prove to myself that having a thyroid condition would not hold me back from anything.
I had previously met Kris at an outdoor boot camp, and I had heard about his wide range of experience in the fitness industry, including his bodybuilding titles. I wanted to prep for my comp with someone who knew what they were doing, so I could get the best personal results. It was hard for me to choose a coach as I had no idea about prepping for a comp, but I decided to prep with Kris and trust that his methods were best.
Training with Kris not only got me the best physical results I have ever had, but he also helped to expand my reality. Kris really believed in me and saw potential in me that I had never seen. He not only transformed my physique but he transformed my mindset. I look forward to every training session with Kris because I know he will push me to my limits, but he also encourages me to think with a positive and expansive mind. As a coach Kris was always by my side for my entire 12 week prep, if not literally, he was always just a phone call away. He would always go over and above to make sure I was on the right path with my prepping.
Together Kris and I managed to walk away with 2 trophies from my very first 2 shows:
2014 INBA Bikini Novice Class 3 Brisbane Classic – 5th
2014 WFF Bikini Southern Hemisphere Championships – 2nd
I am so lucky to have met Kris and I know my journey with him will continue to get bigger and better. Kris went beyond all expectations that I had, and I know he will do so for every one of his clients. He is professional, knowledgeable, inspiring and also comes with a great sense of humor. If you're looking for a supportive way to achieve your fitness goals and to stick with it for the long term, I'd highly recommend training with Kris.
Rhys, 26 years old from the Gold Coast, Australia
When I finished high school I weighed less than my girlfriend (48kg's). I was always very skinny and played a lot of sport whist at school. I found that because there was no more organised sport I was becoming bored. I joined a local gym for something to do and to get a little bit of exercise. After training among some very big, strong, great looking people I decided that I wanted to get bigger (who doesn't?!).
I did a lot of reading about bodybuilding diet and training plans and put together my own training plan. I followed this for a few years, and as expected I got bigger and stronger but still could never get past 75kg, no matter what I tried. I saw a few different personal trainers and followed their advice, which managed to get me over 80 kg's but I still wasn't happy.
I met Kristian just before I got married in June 2011 and did a few sessions with him. His training style and attitude immediately clicked with me. After I got married I went to Thailand for 2 weeks for my honeymoon, where I didn't even think about my diet or training at all. In just 2 weeks I lost a lot of size and strength, so when I got home it was like starting over again.
I told Kristian that I was interested in competing in a bodybuilding competition but had never committed to it. He convinced me that I could do it and that I should give it a go. At this stage I weighed 87kg and had a decent amount of body fat (unsure of %). After around 10 months of insanely intense training session with Kristian, a revamped diet and a whole new attitude towards training I stepped on stage for the first time at the 2012 Mr International Bodybuilding Championships, competing in WFF Class 2 (under 179cm/under 81kg). This was the most rewarding thing I have ever done but for me it was more about the journey.
I have seen various personal trainers over the years. Some of them have been your average run of the mill, just paid for my qualification type who in retrospect, were amateurs and didn't really know what they were talking about. I have also seen some very accomplished personal trainers who have achieved great things in the sport of bodybuilding. These more experienced trainers were definitely better but I always felt like a number, or just another client (only good for the money).
Meeting Kristian totally changed my mindset towards training and life in general. Kristian has a very no-nonsense approach to training and it was his direct nature that appealed to me. I wanted to be told if I wasn't trying hard enough or if I wasn't looking any good.
Kristian has taught me so much about bodybuilding, diet and training. The main lesson that I learned from Kristian's personal training is that you are capable of SO much more than you think, that you can push yourself to your limits and keep going, this is what makes a winner. He also totally redefined what I thought intense training was.
Since training with Kristian I have gained a lot of muscle mass and lost a lot of body fat. For me this is a direct result of the change in my way of thinking. I now know that if I think I can't do something, I probably can, I just need to try. You have to do what others won't to get what others don't. How I approach my training has totally changed, the crazier the idea, the better. 12 months ago my max squat was 3 plates (140kg inc. bar) for 5 reps being heavily spotted. Kristian now makes me do 3 plate squats for 30 reps! It's ideas like this that make the difference. If people in the gym think my training is crazy, I know I'm doing something right.
My proudest achievement so far would have to be the improvements I made in the week between my 2 bodybuilding contests. At my first contest I felt that I looked great and that I was pretty lean (and I wasn't too bad!). After stepping off stage, Kristian gave me some advice and feedback for the next week to make those improvements for my next show. I week later I stepped on stage much leaner and looking a lot better (see photo). I definitely want to compete again but maybe not for a year or two. First I need to get back in the gym, gain some size, work on some weak points and get some intense training under my belt. Next time I step on stage I plan on being at least 8kg heavier and leaner (ambitious, I know, but I'm determined to make it happen).
The hardest training sessions have been either heavy squat sessions or walking lunges around the gym car park (around 300m), Ronnie –style! Outside of our training sessions my pre-contest dieting, especially the last 3-4 weeks, were very difficult. I had very little energy, felt dizzy, was cranky etc. Despite how ordinary I felt it was all worth it after competing.
Not only would I recommend it, I would urge them to train with Kristian. You don't have to be into bodybuilding to benefit. Kristian has a phenomenal amount of knowledge about the human body, how it works, diet and training that anyone can benefit from training with him.
John, 33 years old from Melbourne, Australia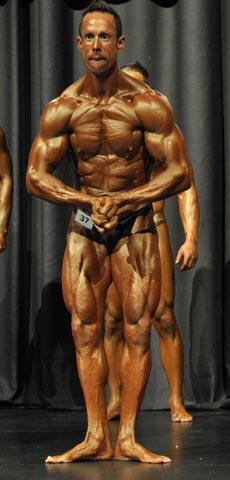 "

I asked if he would help me and he said yes straight away, he was pumped… as so was I!

"
My journey with Kris started approximately 2 and half years ago. I had been training quite consistently for the last 10 years, and dieting as well, i completed my personal training course and and was becoming a bit stagnant just training and dieting with no real goal in mind, that's when I decided i would like to compete in a bodybuilding show, to, a), to break the boredom, and, b) i thought it would work well with my pt business.
I had previously met Kris through doing my pt course as was immediately impressed with his extensive knowledge of everything to do with the human body. I asked if he would help me and he said yes straight away, he was pumped… as so was i! At the time Kris wasn't even in Australia, we did all our correspondence via the internet.
As anyone knows competing for a bodybuilding show, especially for the first time can be extremely stressful as you want everything right to win and for me Kris made the process a breeze. He was always there to answer my 5000 questions throughout the lead up to the show without any hesitation whatsoever, and i cannot thank him enough for that.
Kris has taken my body and transformed it beyond my imagination, to date he has taken me to:
2010 WFF International Championships: 4th
2010 WFF Southern Hemisphere Championships: 3rd
2010 WFF Victorian Championships: 2nd
2012 WFF Conquest Classic: 1st and Overall winner
2012 WFF International Championships: 1st
2012 WFF Southern hemisphere Championships: 1st
My greatest achievements to date are definitely my last three wins from three competitions it definitely makes all the had dieting and training worthwhile, the best thing is i know Kris has more in store for me to go even further.
I cannot speak more highly of Kris, he is the consummate professional when it comes to his personal training i don't have to worry about a thing with Kris in my corner and look forward to bigger and better achievements in the future. For anyone considering stepping on stage or just getting in shape and having a body you've only dreamed of Kris will get you there, you have to work hard to, but Kris will give you the tools to make it a pleasant journey.
Don't hesitate call Kris Today!
Linda, 31 years old from Brisbane, Australia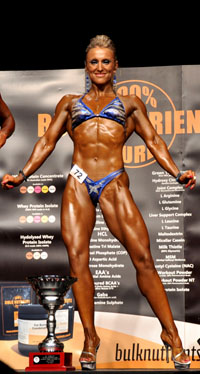 "

Kris opened up new possibilities of body transformation for me.

"
I moved to Australia in December, I'm from Hungary. I've always loved sports, have tried many forms of it. I started lifting weights when I was 13 years old. As a child I wanted to do ballet but I was advised to choose strength sports and athletics instead. I've never been a slim figure, so I have to continuously pay attention to my diet and exercise regime.
After about 7 years of training I thought I would compete one day. At the time I didn't have the knowledge of how to do it and didn't have an experienced coach who could get me ready for my first show. I just really wanted to see what I built in those years. I've never had a chance to see it because I've never been lean.
Kris showed me a different perspective of strength training. I was that typical female who thought if I trained with big weights I would get bulky and big very quickly. So I only used small weights and did my cardio before weights. I wasted years training like this.
Kris opened up new possibilities of body transformation for me. The knowledge I learnt from him in the past 3 years changed me a lot more than I achieved by myself in 10 years!
This year Kris prepared me for my first competition and I finally realised my dream and stood on stage on a state and national level. Beyond that, I won both of my first competiions: NABBA Figure Novice Ms Qld and Ms Australia.
The most significant change in me has been my mental attitude and training method. I'm no longer afraid to use heavy weights and learned that I'm capable of a whole lot more than I could ever have imagined. Now I know what training intensity means and how I have to train to achieve results.
The hardest thing in the beginning for me was to change my diet and be disciplined. But when the results came fast, it was the best motivation.
I'm sure that I couldn't have achieved all this without Kris' help. His experience and knowledge is what you need to tap into if you want real transformation and want to understand what you do and why you do it. With him you'll learn a lot about how your body works so you'll have the knowlede for life. Highly recommended, 5 star service from a passionate professional!
Linda, 31, Australia, Economist, Webdesigner
2011 NABBA Figure Novice Ms Queensland – 1st
2011 NABBA Figure Novice Ms Australia – 1st

Aneta, 36 years old from the Gold Coast, Australia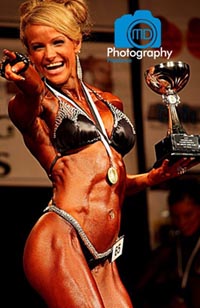 "

Kris has driven me and put me at the level to be able to compete at a national level.

"
Hi my name is Aneta Siedlecka, I'm from Poland.
I have spent the last 8 years living in Australia, and I am loving every moment of it.
Till most recently I have never been happy with the way I have looked. My decision to train was pushed by determination to reach my fitness goals, I wanted to become fitter and stronger than ever before and prove to myself that it is never too late to start training.
I have trained with many trainers but never with the ambition to get to competitive levels as I am now. Meeting and training with Kris Porthill has driven me and put me at the level to be able to compete at a national level.
The most significant change in me to date has been my mental attitude toward this achievement and how I have become disciplined to train, diet and have faith in myself and my capability to lift heavier weight without being concerned, and I owe that to you Kris.
The hardest thing in the beginning for me was to maintain focus on the challenge of competing, I definitely would recommend training with Kris, it has been so much fun along the way, i have learned a lot and I feel like I have achieved my set goals. Thank you very much Kris

Personal Trainer
2011 WFF Figure Ms Queensland – 1st and Overall
2011 IFBB Figure Ms Queensland – 1st
2011 IFBB Figure Ms Australia – 1st
2013 IFBB Figure O'Mara Classic – 1st and Overall

Tom, 30 years old from Geelong, Australia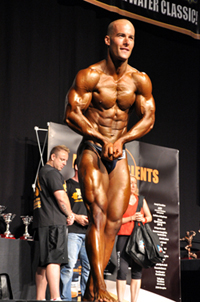 "

If you want a truly professional and smooth contest preparation to be at your absolute best on stage, I highly recommend International Personal Training as the preparation of choice.

"
For a novice bodybuilding competitor, competing for the first time can be very exciting yet stressful and confusing. There are so many aspects for an athlete to consider whilst preparing for a bodybuilding show.
Kris helped turn my class winning physique at the 2011 Nabba/WFF Victorian Championships into a 3rd place at the Australian Championships, Darwin, in my first year of bodybuilding. The changes we made to the package I presented on stage in one week was phenomenal and I could not have been in my best shape if it was not for the help of Kris.
Kris made my competition weekend in Darwin stress and hassle free. He monitored my condition leading up to the show, ensured my nutritional intake was spot on, helped me with my tanning and stage presentation and was there to support me backstage, during and after my event.
He educated me as to why I was doing the things I was doing and made the whole experience of competing a most enjoyable one.
I want to personally thank Kris and his partner for looking after me and 'taking me under their wings' and making me feel like I was one of their own. I am looking forward to working with Kris again for the next time I prepare to stand on the competitive bodybuilding stage.
If you want a truly professional and smooth contest preparation to be at your absolute best on stage, I highly recommend International Personal Training as the preparation of choice.
Tom, 30, Australia, Fire Fighter and Personal Trainer
2011 WFF Mr Victoria, Class 1 – 1st
2011 WFF Mr Australia, Class 1 – 3rd
2013 WFF Mr International, Class 1 – 1st
2013 WFF Mr SouthernHemisphere, Class 1 – 1st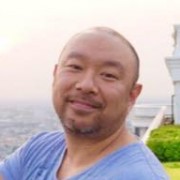 I'm normally happy with my look. My general goal is to put on some size. Compared to my previous experience with a trainer, training with Kris is more advanced, there's more focus, more support.
I noticed a significant change in my posture and definition, also the thickness of my body.
I get many compliments from friends and people from outdoor events. Bodybuilding will be part of my on-going lifestyle for sure, I implemented it into my lifestyle
Scheduling the training sessions was a quite difficult thing because of my job but it totally worth it. I would absolutely recommend training with Kris.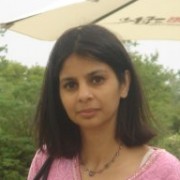 I had been unhappy with my weight for over 2 years. I was 10kg over weight. When I started with Kris it was my first time with a PT. Now I feel that training has changed my entire perspective to my lifestyle which I thought was healthy. I feel more fit & active and eat healthy.
The most significant thing that has changed is not only losing weight but feeling more fit than ever before. As for my thinking, it's taken a 360degree turn vis a vis lifestyle perspective whereby training and exercising have become a very important aspect in my life.
My life has changed though there is no one particular achievement. It's an  ongoing process, as    every time I train and every time  I am pushed  into  doing  heavier  weights  than the previous  time, I feel  I have  achieved  something  new. So every moment is a proud achievement
I think the hardest thing has been to try and discipline myself in terms of time and mindset, but every minute has been worth it. I would definitely do all again.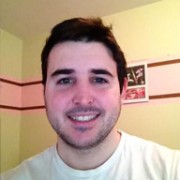 My name is Andre, I am 41, born in The Netherlands and working as a marketing director in Shanghai.
I've been doing weights for over 15 years, but peaked physically when I was 35. Since then I lost strength and muscle mass.
This is the first time that I did personal training. I'm quite a disciplined person and have been going to the gym religiously for many years. Training with Kris allowed me to push myself harder, doing a larger variety of exercises, and getting more out of my training.
During the first two months of training with Kris my body's composition improved, getting broader shoulders and a thinner waist line. After two months I also started to gain additional (muscle) weight, a total of 3-4 kg.
Before training with Kris I had resigned myself to the fact that at my age my body could not improve anymore. After training a few months with Kris my body was/is at its best ever, being stronger and more muscular.
Toughest were the leg sessions, especially the high rep ones, but the upside is that they also helped my cardiovascular fitness.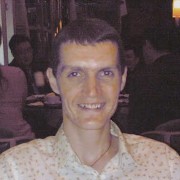 I'd been training quite hard for a year and although i'd made reasonable progress, had reached a point where my body simply refused to get bigger or stronger.
There's nothing more demotivating than working hard in the gym for no reults and so I approached Kristian for some personal training. I just wanted my bodyweight over 70kg, as that was what i'd hit and stopped on.
The training methods which Kris taught me were quite different to the ones i'd been using but the results were undeniable.
There is no doubt that Kris kick-started my body back into action and the weights i'd been struggling with soon became laughable. A year later and the last time I weighed myself I stood in at 81kg, a size i'd have previously thought way out of my reach. I recommend Kris highly, as he really helped to get me where I want to be.

My name is Stephen, I'm a 51 years old American architect. I feel and look great since  I trained with you Kris.
I have trained with many trainers. Your workout was the most effective and changed the way I look at working out. When you trained me you were more focused on the work out, more organized, and most effective in getting results, much more so than any other trainers – even those in NYC from very fancy gyms.
The most significant change is that now I'm using heavy weights with concentrated work every workout and slowly increase the weights. Now I follow a diet with high protein and low to med carbs.
Getting started is the hardest part, once the results happen it is easy as the rewards are so great.
I definitely can see myself continuing this healthy lifestyle. I only wish you were in NYC!
Without a doubt, I recommend training with Kris to anyone.

I struggled for a few years to get rid of about 10kg of body fat. Kristian taught me how to efficiently burn and train so I could create solid, defined lean muscle.
I have worked with many trainers over the years and I found Kristian to be the best 'go to guy' out there. The reason for this is he has the info. Many trainers will try and sell you the latest and greatest products or ideas but a Champion like Kristian knows how to get the most out of a session and incorporates that into the whole 24 hour day.  For the first time I got answers on what type of protein to use, when it would work and when to use it. He also recommended other supplements and explained what they do and how to stack them correctly. The rest was up to me.
I got definition fast and realised this is a 'lifestyle' not something I do a few days a week. When I changed my thinking the rest followed and the results came.
Results motivate me the most and Kristian showed me how to get results fast and then I was motivated to continue. I really enjoy training and that's what keeps me going. I want to look my best for the longest time I can and I believe this is the right way to do it.
The hardest thing is changing the way I look at and use food. Understanding how I used to eat has helped me change my body shape and the way I fuel and use that fuel for training. I found it challenging but worth it.
If you are looking for a breakthrough in your training, Kristian is the guy. I suggest you leave all your old ideas and what you think you know outside the gym and do the session with an open mind and you will be blown away.

I have been unhappy with my legs since I broke my right hip when I was 15, ( I haven't been able to train my legs ever since). I have put on about 8kgs. It's my first time training with a trainer. I like the way Kris sets higher goals for each week which motivates me a lot more.
My legs are significantly thicker now and I became more of an achiever.
My biggest achievement is that I started a healthier lifestyle.
The most difficult part of the training is when we train legs and also to get used to my new diet. But it has been worth it, definitely.
I recommended Kris' services to others already and will do so in the future!

For several years I have battled with the development of my middle aged spread resulting in 5 or more kilo swings in my weight. This is my first time working with a personal trainer.
Kris is an inspiring and caring coach who is passionate about helping me achieve my personal goals I have recognized significant improvement in my overall physique and have also improved the quality of my diet to support this important change in life style decision.
Working with Kris I am motivated to achieve aspirational results. Every week presents a new challenge with richly rewarding achievements.
One of the hardest challenges is overcoming the psychological barrier that can sometimes defeat you in your weight lifting goal. Kris will not let you be defeated and will find the right way to help you break through to the next level.
The greatest challenge to any significant life style change of this nature I have found is maintaining a balanced diet. If you can maintain your discipline you will be surprised and delighted with the results.
Whilst I have never worked with another personal trainer I cannot imagine any one better than Kris to lead you to the achievement of extraordinary goals with vast improvements in your mind body and soul for a longer, happier and healthy life.

My name is Mariska, I am 36 years old, I am from the Netherlands and work as a holistic therapist. I have been wanting to feel more fit and muscular for the last 7 years.
This is not the first time I have done personal training but since I work out with Kris for the last year, I have been extremely motivated and also very happy with the clearly visible results.
Working with Kris has completely changed my view on working out. I learned much more on how muscles work and grow and also the proper ways of doing an exercise, which before I had no clue. Also to realize that as a woman I can lift much heavier than I ever thought possible.
My proudest achievement is that I became very toned and feel so much stronger and healthier. Also that I have been able to keep it up twice a week for a whole year now. Sadly I am leaving Shanghai and I will really miss working out with Kris but definitely plan on continuing working out.
The hardest thing for me is to really push myself every time to the limit especially on the really challenging exercises during the training sessions.
To get enough protein is also hard as a vegetarian and so I take protein shakes. It has all definitely been worth it!!
I absolutely recommend training with Kris!!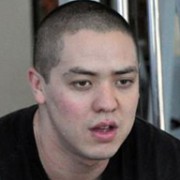 My name is Jonathan and I'm a 29 year old Graphic Designer from Australia. Before training with Kris, I had for a few years been trying to add mass to my frame, always being on the more lanky and skinny side.
Before I began training with Kris, I had only really trained with one other trainer in Sydney, who I really enjoyed training with. After relocating from Sydney to the Gold Coast I wanted to find another great trainer, and was really lucky to find Kristian.
Training with Kris has been a really great experience and has totally changed my overall approach to training. Before Kris I felt like I was floundering with my training, lacking intensity and not really progressing, but after a year with Kris, I feel like I've really improved on my big lifts and just my overall strength and size.
Although my training experience is limited, I can totally see how Kris is different from most of the trainers out there in that He's totally passionate about what he does, has heaps of intensity when training and is also really knowledgeable. It's also really great to train with Kris as someone who you look up to and has had plenty of experience and achievements, making his advice so much more valuable than someone without all that.
I think the most significant change to my body has been overall mass as well as strength gains as a result of a lot of heavy movements when training with Kris. He has also helped me in terms of upping my training intensity and becoming more focused in the gym, and more
I reckon my highest achievement so far has been just upping my intensity and overall approach toward training. I can definitely see myself continuing to train hard well into the future.
The hardest thing has probably been pushing through during times when you're exhausted and ready to stop, but sticking with it and finishing that set/exercise, and feeling a sense of accomplishment.
I would most definitely recommend training with Kris to anyone who is serious about training and making a change to their body.